Music from Europe and the Ottoman harem of the 18th century.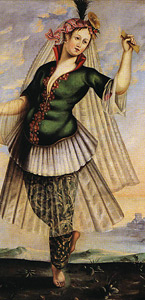 Nothing fascinated the 18th century more than the ideas of the seraglio and the associated culture of the harem. Rushing celebrations, fragrances and luxury shaped the performance. During this time, women ruled the harem, were trained in music, poetry, rhetoric and science and were not objects of pure desire. Women such as Dilhayat Kalfa composed and dealt intensively with the culture of Christian Europe. In Christian Europe no one really knew what was really happening in the harem. This is how stories and myths arose. The harem still retains its magic; it is synonymous with the concept of the Orient. The ballet La Fête du Sérail by Cannabich plays with this theme. Mozart also deals with this subject in his Zaide. Within the framework of the Fête du Sérail programme, wish and reality are juxtaposed and connected by a fairy tale narrator to a listening and viewing experience. Dance, music and singing, fairy tales and poetry combine to create a feast for the senses.
Programme:Works by,
Cannabich: La Grande Fete du Sérail
Mozart : ZaideDilhayat Kalfa
Ali Ufki/Bobowski
Selim III.
Cast:
Ensemble L'Arte del Mondo
Pera Ensemble
3 singers ( two europ. and one turkish singer )
Management Werner Ehrhardt
Pera Ensemble:
Mehmet C. Yeşilçay: UD; M. Ihsan Özer: KANUN; Volkan Yilmaz: NEY; Ozan Pars: PERKUSSION; Yahya Geylan: Solist